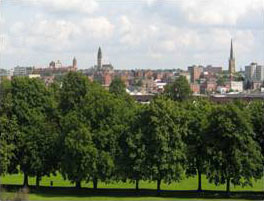 Class Times
Monday Evening 7 – 8pm
Wednesday Evening 7 – 8pm
Saturday Morning at 10 – 11am
Meeting Point
Wakefield College Car Park which is approximately 300 meters up the park driveway (past the skate park and then opposite the football pitch changing rooms where you TURN RIGHT)  when entering through the gateway off Horbury road (opposite the Booze Buster stores etc). We have had to move into the larger college car park due to the popularity of the classes and taking too many car park spots in the lower car park.
New Attendees
When arriving for your first class at the Commando Fit Wakefield Boot camp, please arrive 15 mins early for your FREE Trial so the instructors can discuss any queries with you and allow you time to fill in your Health Questionaire.
About
Thornes Park is another excellent venue with some great exercise points, hills and car parking and with excellent travel links and is situated only a five minute walk from the town centre/Cathedral retail park. Be aware that it might also be called Clarence Park depending which map or website you look at.